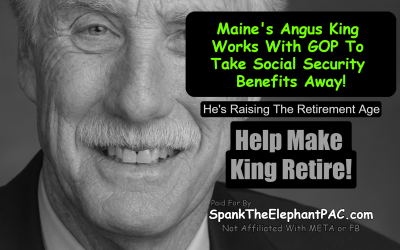 Angus King's "Centrist", "Independent" schtick stuck Maine with Paul LePage getting reelected for 4 years. That festers in Maine. That was so devastating for Maine it's hard to make a case that justifies King's lackadaisical, almost slow motion, certainly low energy...
Stop GOP RACISTS
Republicans have become the racist Party.
They are fighting to keep Congress male and white, and they clearly care more about meeting their racist goals than they care about the issues of governing.
Of course there are exceptions to every rule. But the best way to win is with women candidates, and particularly women candidates of color. They're not only more electable now when compared to their boring, old, white male alternatives, they are also the best way to counter racists and the racist agenda to voters. All communities across America need that role model. They need to be the new normal, and the best way to be sure that racism NEVER becomes a new normal. EVER! And that is our primary target: Elect more women of color to the US House and Senate.
SpankTheElephantPAC.com raises our favored candidate's favorability and we specialize in raising their opponents' negatives so our candidates don't have to get into the mud with GOP racists.
Please contribute what you can. ALL HANDS ON DECK!
Former President Bone Spurs And The
Republicans Have RE-Written The Constitution.